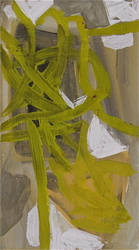 This work is a visual conversation between line, shape and space. In an explorative process, I often use many different mediums in one piece.

My use of collage and paint together provide a means to express a vocabulary of shape-shifting within this space. I respond to the work as it develops, embracing serendipitous moments. I choose carefully what ultimately remains.

My work can be viewed as an outward expression of my internal dialogue with form.